the company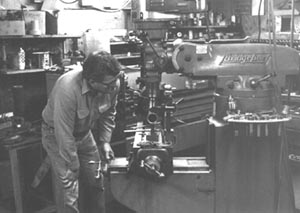 About Don's Machine Shop
Don's Machine Shop, Inc. was founded in 1981 by Donald Eifert. He set up shop in a one-car garage with one milling machine and one lathe.
He held a daytime job and worked late into the night taking jobs from customers that no one else wanted to do. He approached potential new customers with a "just let me show you what I can do" attitude.
His persistence started paying off. Word got around about the quality of the work he was doing and larger companies started sending work. He dedicated himself to providing service and delivering parts whenever the customer needed them.
As the workload kept increasing he decided to take the chance and make the machine shop his sole source for earning a living. He hired a friend from trade school as his first employee and the two of them worked 12 to 14 hour days six and sometimes even seven days a week.
Since starting over 30 years ago Don's Machine Shop, Inc. has grown to be one of the largest machine shops in Pennsylvania's Wyoming Valley. Our 77,000 square foot climate controlled facility contains millions of dollars worth of modern equipment that we are continually upgrading. We employ 30 people and make machine parts for companies around the globe.
Many things have changed since this business started over 30 years ago, but our commitment to providing quality parts and service will never change.
A complete listing of the capacities of our machinery can be found here